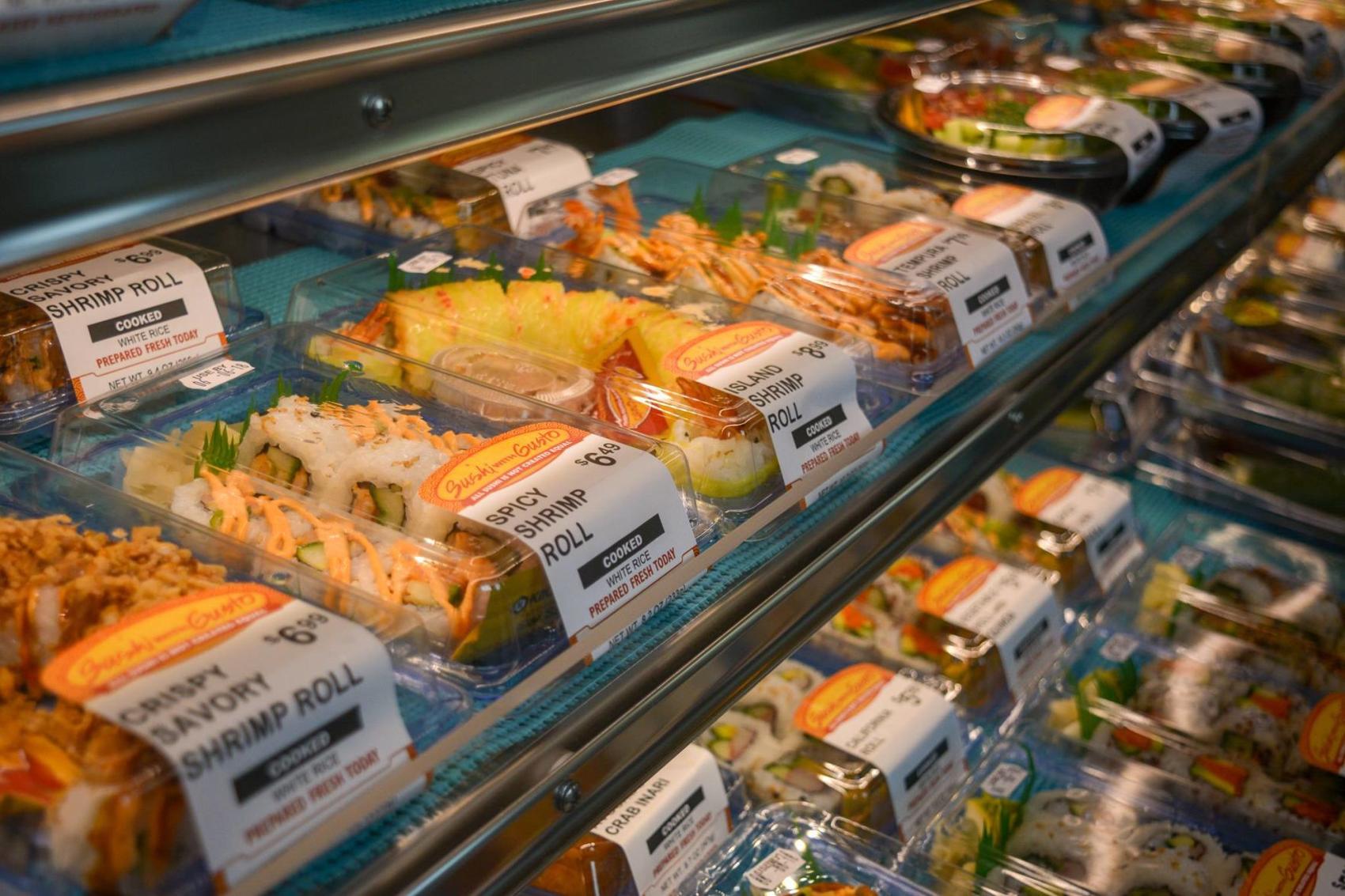 When University of Georgia students and faculty need to grab a quick bite, they now have the chance to pick up something different than the average sandwich.
On June 5, Sushi With Gusto opened to the public at Joe Frank Harris Dining Commons , offering a variety of freshly made sushi dishes at a relatively affordable price. The sushi is made fresh every day, according to UGA Dining Services.
This development is part of new renovations made to Joe Frank Harris Dining Commons that also included the combination of two former food kiosks — Between the Bread and Tossing Greens — into the revamped East Side Deli.
"I like sushi, and I like that it's a different option than just general sandwiches or fast food," said Colleen Kinsella, sophomore athletic training major from Seneca, Illinois. "It makes me feel fresher and it tastes good."
The sushi bar offers both regular cooked and raw sushi rolls and vegetarian options. Poke bowls including salmon or tuna can be made to order, and salads like the seaweed or soba soba can act as side items. Prices range from around $6-$11.
Notable recipes include the cajun crawfish roll, island shrimp roll, tempura vegetable roll and BBQ eel roll. Inari is also available – a soybean pouch filled with rice and either seafood or vegetables. Sushi party trays can be ordered for any occasion and can be vegetarian as well.
Chef Htun Linn, the head sushi chef for the new location, said he "loves this school" because he believes the friendly atmosphere will allow the sushi bar to thrive.
Since it's opening, Sushi With Gusto staff have been offering free samples, allowing students to have a taste of the staff favorites. According to Chef Linn, the crunchy rolls – topped with tempura flakes or filled with a tempura-fried item – are the most popular.
"We've been hearing for a long time that sushi would be something that would be a benefit to add to campus," said Bryan Varin, executive director of UGA dining services. "All the changes that we've made have come directly from student feedback."
According to Varin, dining services use feedback provided to them by a student progress group, as well as surveys and focus groups.
Sushi With Gusto has multiple locations across the United States and specializes in small scale operations at universities and supermarkets.
"They have a good track record on other college campuses," Varin said. "We did our homework."
Sushi With Gusto will become available at other locations on campus in the form of packaged sushi products at the markets and campus eateries around campus, starting fall 2018. These include The UGA Creamery, Bon Appetit, Dawg Pause and the new market being constructed in Russell Hall.
However, the main location will remain in Joe Frank Harris Dining Commons. The Market at Tate has already started offering sushi, and according to Senior Administrator of Dining Services Art DiFrancesco, the sushi has already been a hit with students.