News Date:
Thursday, November 29, 2018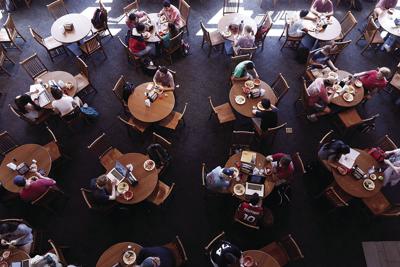 One beefy alternative and another fruity fad will be introduced in select campus dining this upcoming Spring semester.
A new mushroom-beef burger blend of 70 percent ground beef and 30 percent raw and roasted mushrooms will be served at Oglethorpe Dining Commons, Bulldog Burger and the Niche at Health Sciences.
Jorge Noriega, executive chef of Dining Services, said this new blend gives his chefs more flavor-freedom in the kitchen.
"I think they're really looking at the possibility of using this as a flavor enhancer, and anytime you talk to a chef about a flavor enhancer, they're going to go for it," Noriega said.
In Niche Pizza Co., located in the Tate Student Center, an açaí bowl bar with a variety of toppings will be added using Sambazon Açaí Bowls ingredients.
Opening hours will be extended from the current 10:30 a.m. to 7:30 a.m. only for the bowls, and both components of the restaurant will continue to be open until midnight.
Noriega said specific prices have not been decided yet for the bowls, but Bryan Varin, executive director of UGA Dining Services, said the prices will be on the higher end of the spectrum.
Regular beef burgers will still be served at Snelling, Bolton and Village Summit dining commons. Auxiliary Services marketing and communications manager Allison Brannen said informational materials and samples will be distributed during the first few weeks after introducing "The Blend."
Varin said the new burgers present sustainable benefits. Incorporating mushrooms requires a smaller amount of beef input, one of the most resource-intensive meats to produce, creating a positive change in the manufacturing chain.
A showcase was held for the new blend on Oct. 24, where Varin and Brannen said UGA chefs cooked up almost 400 of the blended burgers by popular demand.
Dining services is confident these new options will be popular among those who munch on them.